Back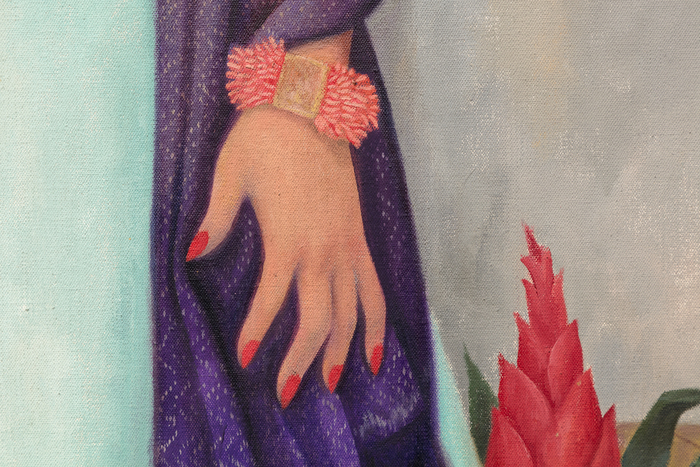 Portrait of Enriqueta G. Dávila
1952
79 1/8 x 48 3/8 in.
(200.98 x 122.87 cm)
oil on canvas
Provenance
Enriqueta Goldbaum de Dávila
Enriqueta Dávila Goldbaum, by descent from above
Private Collection, Houston
Private Collection, acquired from the above

Exhibition
Geneve, Italy, Palazzo Ducale Frida Kahlo y Diego Rivera, September 20, 2014 – February 8, 2015
Mexico City, Mexico, Museo Dolores Olmedo, Homenaje a Diego Rivera. Retratos, October 20, 2007 – January 2, 2008
Houston, United States, Museum of Fine Arts Houston, on short-term loan during 2007 Orizaba, Mexico, Museo de Arte del Estado de Veracruz., La brillantez pre
...More...
via al pincel,
May 11 – August 21, 2006
Xalapa, Mexico, Pinacoteca Diego Rivera, Los Cuatro Grandes, March - June, 2006 Mexico City, Mexico, Museo del Palacio de Bellas Artes, Diego Rivera: Una Retrospectiva, September 1986 - January 1987

Literature
García, Josefina. Homenaje a Diego Rivera: Retratos. Mexico City: Museo Dolores Olmedo, Patiño, 2007. p. 129. Print
Gutiérrez L. Cortés. Diego Rivera: Catálogo General de Obra de Caballete. Mexico City: Consejo Nacional para la Cultura y las Artes, Dirección General de Publicaciones, 1989, p. 265. Print
Diego Rivera: Una Retrospectva. Ciudad de México: Museo del Palacio de Bellas Artes, INBA, Secretaría de Educación Pública, 1986. Print
Los Cuatro Grandes. Xalapa. Veracruz: Pinacoteca Diego Rivera, 2006. Print. Prignitz-Poda, Helga. Frida Kahlo e Diego Riera. Milano: Skira, 2014, cat. 252, pp. 146, 265

...LESS...
"Painting is an essential function of human life. Wherever human beings live, painting has existed and exists. Painting is a language, as with words." – Diego Rivera
Think of artists from Mexico and few names loom as large as Diego Rivera. He was a leading member and founder of the Mexican Muralist movement along with David Alfaro Siqueiros and José Clemente Orozco. His works tackled artistic explorations alongside pressing themes of social inequality, politics, and Mexican history and culture. Only his wife and artist Frida Kahlo has reached similar heights of influence and impact.
In these two paintings, Rivera translated his unique style and explorations onto a more accessible format. "Mujer con alcatraces" features one of his most iconic symbols – the calla lily (alcatraz in Spanish). The painting centers on an Indigenous flower vendor, a common figure in Rivera's paintings. The artist combined references to pre-Colombian art to heighten the thematic meaning of his works. In focusing on an Indigenous woman and her labor, Rivera comments on the history and culture of Mexico, particularly the overlooked place of Indigenous groups. Although associated with Mexico, the calla lily is a product of colonization, as it is native to Southern Africa. A symbol of modernism due to its sculptural and geometric forms, Rivera's use of the flower is layered and nuanced combining modernism with history, labor with beauty. These paintings are a vision of Mexico's past and a future he hoped to help shape. Other artists of the time that would utilize the flower include Georgia O'Keeffe, Marsden Hartley, and Edward Stiechen. It was a calla lily painting, "Flower Day", that would be Rivera's first painting to enter a public collection in the United States.
More
Diego Rivera, "Mujer con alcatraces" Gouache on rice paper (laid down on canvas), 1943

Diego Rivera, "Flower Day (Día de flores)", oil on canvas, 58 x 47 ½ in., 1925, Los Angeles County Museum of Art

Diego Rivera, "Portrait of Enriqueta 'Quetita' Dávila" featured in Life Magazine December 11, 1950

Diego Rivera, "Retrato de la señora Amparo Rugarcía de Espinosa", 1952, Museo Amparo

Diego Rivera at the Museum of Modern Art, painting "Liberation of the Peon", 1931

Diego Rivera and Frida Kahlo in their home
"The secret of my best work is that it is Mexican." – Diego Rivera
Paintings in Museum Collections